We're pleased to offer the following services at Union Street Veterinary Hospital: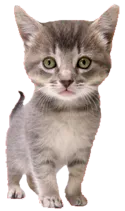 at Union Street Veterinary Hospital, we can care for many types of pets:
Dogs
Cats
Rabbits
Pocket Pets
Reptiles
Birds
Call us for more information.
Appointment Policy
To allow ample time for all patients and scheduled surgical procedures, we operate primarily by appointment. Emergency cases shall always receive top priority, which is why occasional appointment delay is inevitable. Please realize that we make a sincere attempt to see each client on time.

For the safety of all animals in our care, we require that all vaccinations be up to date. Even though we make every effort to make our patients feel comfortable during visits, they may be a little uneasy about new people, new surroundings and other pets. This is one of the reasons we ask you to restrain your pet. We recommend that animals be placed on a leash or in pet carriers before entering the waiting room.
Patient Arrival Policy
For your protection, and that of others, all dogs must be on a leash and properly controlled while in the waiting area or exam rooms. If you are aware that your dog is aggressive with people or other animals, please talk to our front office personnel prior to bringing your pet in.
All cats must be presented in an appropriate cat carrier or on a leash.
---
In Case of an Emergency
If you have an emergency outside of our regular business hours, we recommend that you contact the following emergency facility:
Capital District Animal Emergency Clinic

222 Troy Schenectady Road Route 2
Latham, New York 12110 United State
Phone : (518)785-1094

Northway Animal Emergency Clinic
35 Fawn Road
Ganesvoort, New York 12831 United States
Phone : (518)761-2602